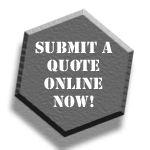 A7 Acrylic Adhesive (28, 10, 8 and 5oz)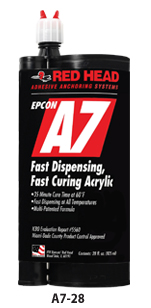 Fast Dispensing, Fast Curing Acrylic Adhesive The acrylic resin and hardening agent are completely mixed as they are simultaneously dispensed from the dual cartridge through a static mixing nozzle, directly into the anchor hole. A7 can be used with threaded rod or rebar.
Ask us about the different dispensers for this product!
A7 Order Information
| | |
| --- | --- |
| Product # or Type | Description |
| A7-28 | 28oz Container |
| A7-10 | 9.3oz Container |
| A7-8 | 8oz Container |
| A7-5 | 5oz Container |